Nubian Consulting has built up the capability to rapidly deploy online GIS atlas-apps, and can quickly update these leveraging the power of the internet. We can discuss with you your specific requirements and develop a comprehensive atlas-app for any region of the world. We work with complete confidentiality when dealing with proprietary company data.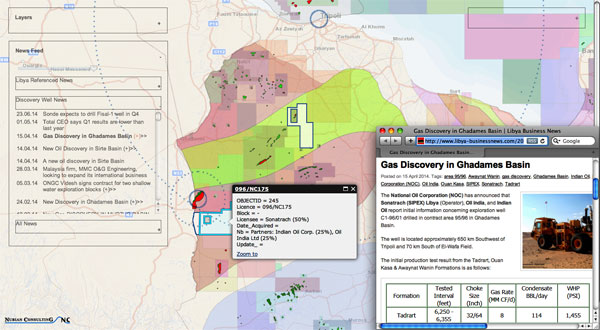 Our GIS atlas-app service provides:
global reach
quick conversion turnaround period
dedicated team of GIS experts, geoscience specialists and developers
proven experience with Oil & Gas Atlas of Libya (see page) which features a high level of detail, more than market competitors
Our GIS atlas-app platform is designed to ease the use and accessibility of data required for today's exploration challenges. The platform bring's together:
map and details of oil and gas fields (regional/ nationwide)
detailed commentary and reserves estimates for oil & gas fields
petroleum province boundaries
petroleum province and field structure contour and fault maps
well locations
field and regional cross sections
current licence map
terminal and pipeline map
A free demo can be accessed online here, which features the Oil & Gas Atlas-App of Libya.
If you have a particular interest in creating a similar dataset for a specific region, please do not hesitate to contact us and we will do our best to help you.