News
September 2014
Nubian Consulting organised a field trip for the PESGB to the North Somerset Coastline exposures of Triassic and Jurassic (Lias) sediments on September 19th to 21st. See field trip description.

July 2014
The company's summer reception took place at the Lansdowne Club in Mayfair and was well attended by industry representatives.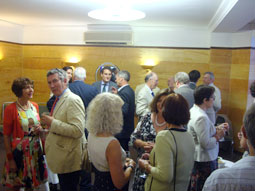 June 2014
EAGE Conference 2014, Amsterdam (June 16-19th)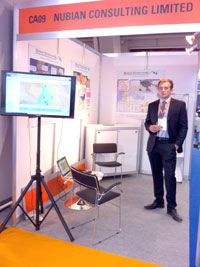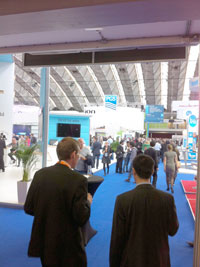 Nubian Consulting attended the 76th EAGE Conference in Amsterdam, Netherlands. We exhibited current products and illustrated company expertise. We also officially launched the new Oil & Gas Atlas of Libya News Feed App - a recent addition to our Atlas suite. Nubian Consulting offers a new service building online atlases elsewhere in Africa/worldwide.
May 2014
3rd New Libya Oil and Gas Forum
Danny Clark-Lowes spoke at the 3rd New Libya Oil & Gas Forum in London (29, 30 May); the event had the full support of the Libyan Petroleum Ministry and of NOC.
March 2014
'Petroleum Geology of Libya'
Danny Clark-Lowes is to co-author a second edition of this encyclopaedic account of the subject with Don Hallett. It is due to be published at the end of 2015.
September 2013
PESGB Africa conference, London (September 10-12th)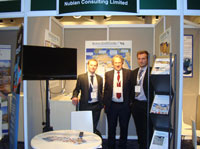 Nubian Consulting attended the 12th PESGB Conference on African E&P 2013 in Wembley, London. We exhibited and showcased our interactive Oil and Gas Atlas of Libya on ArcGIS Online including our most recent updates on cross sections. In addition we launched a fully functional trial that allows you to try out and test our new Oil and Gas Atlas at the Elite package level, free of charge.

June2013
Launch of Oil & Gas Atlas of Libya on ArcGIS Online at the EAGE conference in London (June 11-13th)
May 2013
2nd New Libya Oil & Gas Forum 2013, Istanbul
Dr Clark-Lowes gave a talk, including comments on Shale Gas, at an NOC sponsored international conference, the 2nd New Libya Oil & Gas Forum 2013, in Istanbul in May 2013.
Ongoing R&D work
Research and development work on the Atlas is progressing with the development of a newsfeed feature, a general and technical oil industry newsfeed keeping the user completely up to date on a daily basis about developments in the industry in which the location of GPS-specific news items (for instance, new discovery wells, reported test results, acreage opportunities and licence specific news etc.) are immediately located on the interface map of the Atlas. This important new feature can be followed on Twitter. R&D work is also proceeding, jointly with ESRI, on developing a new 'auto cross section function' allowing outline cross sections at top reservoir level to be generated at operator-selected orientation. Another ongoing R&D project is the development of a variety of artificial intelligence, where the Atlas database is subjected to 'reliability tests' built from statistical analyses of the data on other fields within the database that are similar in type, a series of characteristics being used to assess and rank 'similarity'.